Is anyone getting excited for Black Friday? Being from CanadaI have never experienced a Black Friday sale. But I've heard stories. :) My friends from The Primary Pack are hosting the "All I Want for Black Friday Wishlist" Linky Party and Giveaway!
There are so many things on my wishlist, but these are some that I have to have!
Check out some of the most wishlisted items in my store, Emmy Mac Shop! My wishlisted items will be 20% from the 28th to the 30th!
Problem Solving Strategies: Animal Themed

I absolutely love this product! I adore how it came up. This product is full of problem solving strategies. Each strategy has an animal, i.e. Building Beaver (Using a Model) or Funky Monkey (Act it Out). The animals make it easier for my students to remember the different strategies

Writing Friendly Letters with Learning Goals and Success Criteria

This product has everything you need for your letter writing unit: anchor chart ideas, arrows for self and peer assessment, check lists, templates, learning goals and success criteria and much more.

Writing Personal Recounts Are your students working on writing personal recounts or adding details to their writing? Then this product is for you. Everything you need is included: Learning goals, success criteria, check lists, arrows for peer and self assessment, the "5 W" posters, writing rainbow for goal setting and much, much more.
"Suit Up" Santa: A Sight Word Game Your students will love this game. Poor Santa is in his underwear. Students need to dress Santa by reading words. Your kiddos will have so much fun playing this game!
Trim the Tree: A Sight Word Game This is another holiday sight word game that your students are sure to love. Students decorate a Christmas tree by reading sight words. This game is sure to be a hit. It's great for students to play during word work.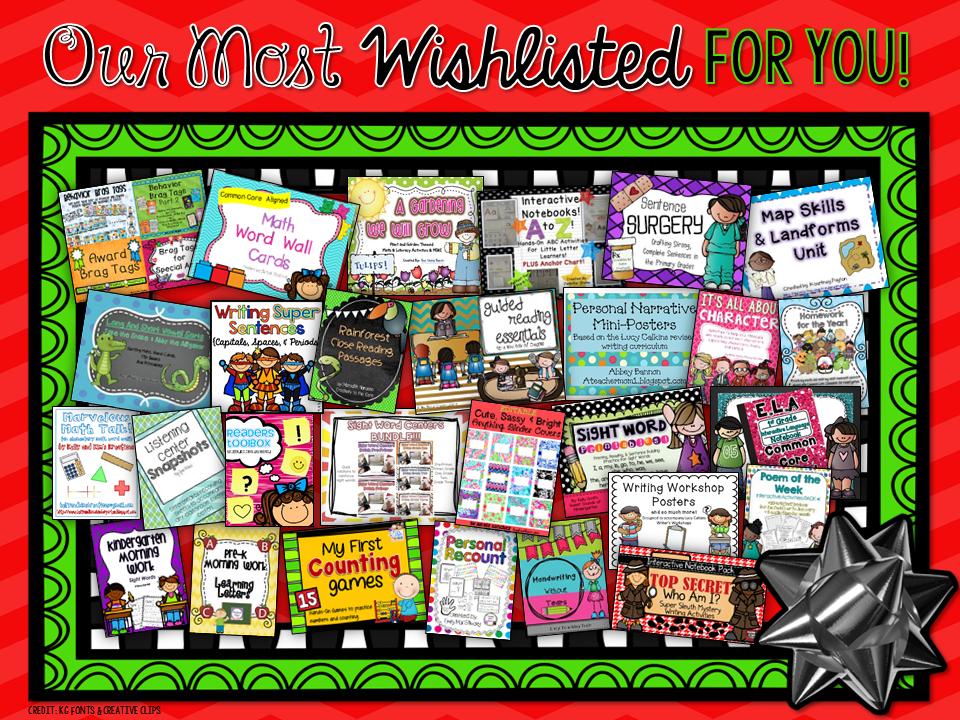 Drumroll please.... Check out this HUGE giveaway package you can win by entering below! There is a resource from almost everyone in The Primary Pack, perfect for all primary grades!! Good luck, friends and happy shopping!
a Rafflecopter giveaway
Now It's Your Turn To Join The Fun!

Just a few rules to follow and your on your way:
1. Download the images above!
2. Add your favorite sellers products in your TpT cart to the "My Black Friday Wishlist"
3. Add your own products to the "For Your Black Friday Wishlist"
4. Link up below to share your Black Friday Wishlists!
5. Don't forget to enter our fabulous giveaway above AND visit others linked up below!